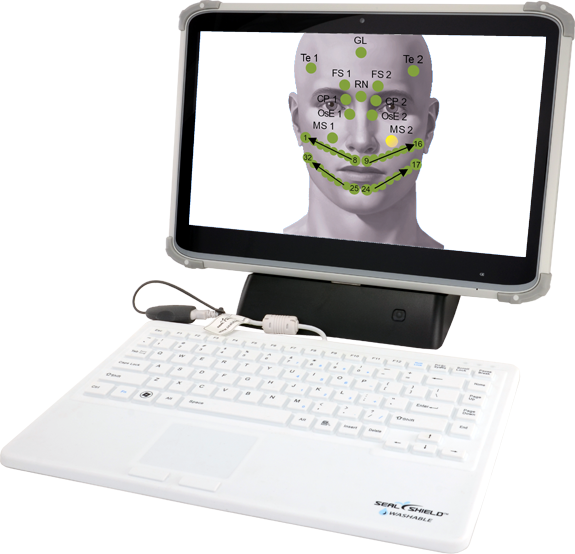 The Alfasight 9000 infrared thermometry system is a whole-body medical testing device designed for men and women that is gentle, painless and non-invasive. The AlfaSight 9000 infrared sensor measures skin temperatures at over 100 points on the body, gathering temperature information, which is known to reflect the health and integrity of various tissues and organs.
Whole-Body Thermometry is a great tool that not only provides a thermographic picture of the body, but also provides a visible measurement of the Autonomic Nervous System, often the key to the causal factors of many diseases. It will pinpoint root causes of disease with objective and dynamic mapping of physiological dysfunction. This allows early systemic disease pattern recognition that is safe, accurate and non-invasive.
Further computer analysis compares the patient's temperatures with ideal values that have been derived from over 30 years of use in 500+ medical centres worldwide and recognizes patterns of temperature that have been correlated to physiological dysfunction of organs and systems. In this respect, it is a valuable adjunct to other diagnostic methods, such as Mammography, CT, Histology or MRI.
The AlfaSight 9000 system may be used for the adjunct diagnosis of:
Abnormalities of the female breast
Peripheral vascular disease
Musculoskeletal disorders
Extracranial cerebral and facial vascular disease
Abnormalities of the thyroid gland
Various neoplastic and inflammatory conditions
The AlfaSight 9000 is intended for adjunct diagnostic use only. This product is not intended to serve as a sole diagnostic device. Any diagnostic criteria made with this product must be confirmed by another diagnostic procedure, such as Mammography, CT, Histology, or MRI. Thermodiagnostic procedures are not substitutes for mammograms or other radiological or clinical tests.
For more information on how Thermography works, please watch this video, How Thermograhy Works